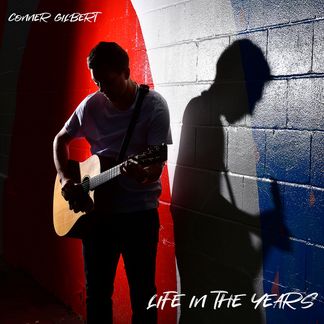 HOLLIDAYSBURG, Pa. – Singer-songwriter Conner Gilbert has announced that he will be releasing his first LP in 10 years, when new album Life in the Years will be issued later this summer.
The 10-song album is slated for release on Friday, August 9. It is currently available for pre-order on iTunes and Amazon Music.
"I've been writing and recording on-and-off for the past 10 years, and I'm extremely excited to bring this project to fruition," said Gilbert. "I think that Life in the Years works as a true album. From the first track to the last one, it's a cohesive unit."
Life in the Years is the follow-up to 2009's The View From Within, Gilbert's first album as a solo musician. It will be his first release of any kind since the 2011 stand-alone single, "Here's to the Days."
"I've grown a lot as a songwriter and musician, and I think the new record reflects that," Gilbert stated. "The songs on Life in the Years work well together because they carry some consistent themes throughout the album. It's largely about growing up and finding your way while living life to the fullest."
New song "Throw It All Away," the sixth track on the album, was announced as the lead single and is available to stream on YouTube.
The tracklisting for Life in the Years is as follows:
1. Bridges
2. Lost and Found
3. Here's to the Days
4. Tonight
5. Run Away
6. Throw It All Away
7. Hold on to That Truth
8. All Alone
9. Across the Wire
10. Still Gonna Find Our Way